宮本亜門演出 TAO「DRUM HEART」NY進出! // AMON x TAO "DRUM HEART" goes Off-Broadway!
2016年2月24日、メディア情報を追加しました。このエントリーの最下部をご覧ください。
This entry was updated on February 24th, 2016. Please scroll down to the bottom of this entry to check out the media coverage of the show.
----------------------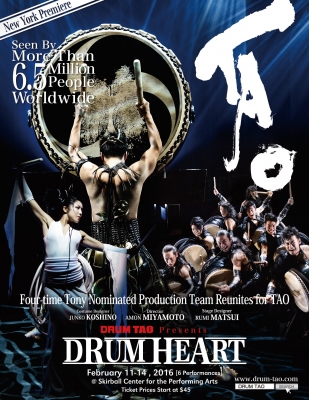 (English text to follow)
2015年5月に開幕し、7ヶ月間に渡って日本全国で旋風を巻き起こしてきた、宮本亜門とDRUM TAOの初タッグ作品「百花繚乱 日本ドラム絵巻」(英題「DRUM HEART」)。来月ニューヨークにて、待望のオフ・ブロードウェイ公演が開催されます!
これまでにも世界中で何百という公演をソールドアウトさせ、650万人以上を動員してきたDRUM TAOですが、ニューヨークで公演を行うのは今回が初めて。宮本亜門演出作品で、舞台劇術の本場に初上陸します!!
〜 亜門よりメッセージ 〜

「およそ10年前にオン・ブロードウェイでミュージカル『太平洋序曲』を上演して以来、ここニューヨークに戻って来るのが夢でした。それがあの、『太平洋序曲』の制作チームである、衣裳のコシノジュンコさん、美術の松井るみさんとタッグを組み、今度は世界中で大人気のDRUM TAOの演出で関わらせて頂きます。

"DRUM HEART"と銘打ち、これまでになかった物語を通して、体中から沸き起こるエネルギーと心からのパッションを、太鼓だけではなく、映像やパペットなどを使って表現しています。ニューヨーカーの皆さん、ぜひ新しいニッポンの和太鼓を、みぞおちから感じ、心躍らせてください。」
2月11日(木)から14日(日)まで、全6回公演です。公演期間中には、ニューヨークでも大人気のラーメン店 IPPUDO EAST VILLAGE店とWEST SIDE店にて、特別メニューのTAOラーメンとTAOカクテルも販売され、共に「日本のかっこよさを世界へ」発進します!
チケットは、NYU Skirball Center for Performing Artsの作品紹介ページより、「BUY TICKETS」にお進みください。
http://nyuskirball.org/calendar/taodrumheart

From the creative team behind the four-time Tony Award-nominated revival of Pacific Overtures comes the New York debut of TAO: DRUM HEART.

Japanese drumming troupe TAO has critics raving about their extraordinary precision, energy, and stamina. With hundreds of sold-out shows and more than 6.5 million spetators around the world, TAO has proven that modern entertainment based on the timeless art of Japanese drumming thrills international audiences again and again.

TAO: DRUM HEART is the first collaboration between director Amon Miyamoto and TAO, and it is the first time for TAO to incorporate storytelling into their show. This sensational production has toured all over Japan from May 2015 through January 2016, and will play a strictly limited engagement at NYU Skirball Center for the Performing Arts from Thursday, February 11, 2016 through Sunday, February 14, 2016.

〜
Message from Amon
〜
"It's always been my dream to return to New York after directing Pacific Overutres on Broadway.* It's especially exciting to reunite with the Pacific Overtures production team, including costume designer Junko Koshino and scenic designer Rumi Matsui, and to work with the most acclaimed Japanese Drum entertainment group, on TAO: DRUM HEART. We look forward to bringing the explosive energy of this heart-shaking story to life with the deep passion that TAO brings to all of their work. This new, sensational piece from TAO will shake audience members to their core."
(*Since his Broadway debut in 2004, Amon's
The Temple of the Golden Pavillion
has also been invited to
the Lincoln Center Festival in
2011.)
NY1
"Parenting: Where To Go 2/5/16"
Video: www.ny1.com/nyc/manhattan/parenting/2016/02/4/parenting--where-to-go-2-5-16.html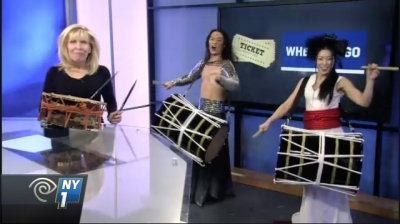 ​
Tao: Drum Heart Brings Japanese Rhythms, Choreography & More to New York
(Broadway.com)
Interview: Drum TAO's Tony-nominated Director, Amon Miyamoto
(StageBuddy)
新作"DRUM HEART"を引っ提げてNY初来演!話題の和太鼓グループDRUM TAO
(Bi-Daily Sun NEW YORK)
和太鼓グループDRUM TAOのニューヨーク公演 DRUM HEART
(Bi-Daily Sun NEW YORK)
和太鼓グループ「DRUM TAO」、初のNY公演
(ニューヨークビズ)
NYで和太鼓グループ「DRUM TAO」初公演 演出に宮本亜門さん
(ニューヨーク経済新聞)
和太鼓「ドラム・タオ」NYUで公演 演出・宮本亜門 衣装・コシノジュンコ
(よみタイム)
宮本亜門さん演出作品、迫力の舞台で観客魅了
(ニューヨークビズ)
外国人を(嵐よりも)魅了するサムライ集団「TAO」って何者?
(ニューズウィーク日本版)
和太鼓の響き、NY魅了=ドラム・タオが初公演ー米
(時事通信)