見る者の心の中を揺さぶる、 世界第一級の仕事だった。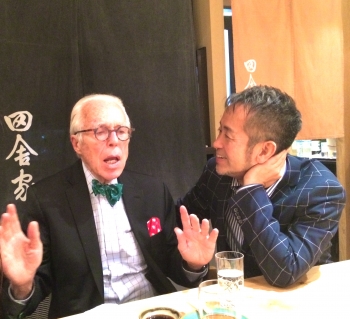 作家のジョン・グエア氏が来日。凄く喜んでくれてます!
「亜門氏は作品のもっている精神をすべて見事に具現化してくれた。
オープニングシーンは本当に素晴らしく、あらゆるミュージカルの演出
としても優れている。Braking the Fourth Wall(第4の壁を破る)、
いや、それどころか心の壁を破る、Breaking the FIFTH Wallだった。
このオープニングを初めて見たとき、涙があふれ出したよ。亜門氏の演
出は活力とスピリット、そして喜びに溢れ、見る者の心の中を揺さぶる、
世界第一級の仕事だった。この作品を初演当時は、政治的争いの時代
で、賛戦、反戦の対立が大きな問題だった。現在はそれよりも、持てる
者、持たざる者という経済格差の時代になった。そして経済的に裕福で
あることは心も豊かであるとは限らず、その逆の人もいる。亜門氏のア
プローチは、それらすべての人々を勇気づけることだろう。」
Mr. Guare had flown from New York to celebrate this Trans-Pacific
collaboration. Mr. Guare said:
"Amon embodied the spirit of this work precisely and completely.
The opening scene was so marvelous that it was a work of
outstanding direction for any musical. It was like breaking
the fourth wall; moreover, breaking the FIFTH wall, which
breaks a wall in your mind. I burst into tears when I first saw
this opening. Amon's direction is full of vigor, spirit and joy
and is the work of a first-class director in the world, which
shakes the audience's heart to its core. When this musical
was first presented, it was the era of political differences and
one of the issues was the conflict between pro-war and
anti-war factions. Now it has become the era of the economic
gap between the haves and have nots. And being financially
rich doesn't necessarily mean you have a rich soul and
vice versa. Amon's approach would encourage them all."
"TWO GENTLEMEN OF VERONA" OPENS IN TOKYO
Two Gentlemen of Verona continues its run at Nissay Theatre in Tokyo until December 28, 2014 and then tours to Fukuoka, Aichi and Osaka.
ADAPTED BY JOHN GUARE (THE HOUSE OF BLUE LEAVES,
SIX DEGREES OF SEPARATION) AND MEL SHAPIRO
MUSIC BY GALT MACDERMOT (HAIR)
DIRECTED BY AMON MIYAMOTO (PACIFIC OVERTURES)
PRODUCED BY TOHO CO., LTD.